Goeniko vs Kuromaru 2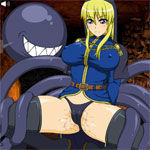 This is the second time we can see how the blonde Goeniko has been captured and forced to have sex with an octopus-like creature Kuromaru. The current version of the game is made by another Japanese author and has more features inside.
Premium Adult Games
Share this game with your friends!
Similar Games