Horny Tony: Employment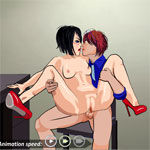 Tony is a shy guy who can barely talk to women. Today, he stumbles upon an almost impossible for him mission. In order to get a job of his dream in a bank, Tony should collect 3 important signs on his job application paper. For now his future depends on his ability to make a good impression on female bosses of different departments of this bank. Don't let him to fuck up his mission.
Premium Adult Games
Share this game with your friends!
Similar Games