Advanced Rogue Intelligence Assault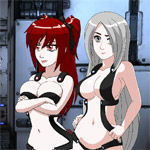 In ARIA you play as a team of special agent space operatives with unique abilities that work for a company called GemCo. This special agent team is lead by Jeo, a highly skilled and powerful agent who has recently gone rogue after being framed during a undercover mission at a school where he was under the alias name of Jinru. Several GemCo agents are on the hunt looking for him, however Arielle who is rumored to be his girlfriend, and leading his old team was the first to find him out in deep space. With Jeo united with his team again, his plan is to battle his way back through GemCo and find the man who framed him.
Premium Adult Games
Share this game with your friends!
Similar Games