MrPinku:Let's Mix Stuff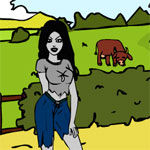 This is the sequel of "Let's Play Potions" with more girls, pets and background and a lot of TV show references (Clone Wars, Walking Dead, Matrix, Futurama, The Ring, etc...) Try to find out the correct combination to unlock secrets scene and get the girl! Even if it's a "Demo Version" there is already 7 full scenes to unlock, so...
Premium Adult Games
Share this game with your friends!
Similar Games