Easy Town Porno Night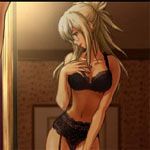 Today should be an excellent night! You've seduced the sexiest girl in Easy Town and prepare to fuck her. But in the last moment this bitch breaks away. What're fuck!? She said that previously you should bring to her 8 private sex films. Well... Take the camera and be ready to hunt in the night city. You have to seduce different sexy babes and record your sex on the camera. Collect all 8 films and then you can fuck your stupid girlfriend.
Premium Adult Games
Share this game with your friends!
Similar Games