Sexy Kitten Sim Date 7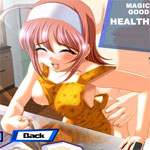 Another quiz game with our good friend Slutty McSlut. Today you'll return to the big city and try to seduce new hentai babes. They'll ask you different questions, try to give'em right answers. Fuck up all city sluts and you've got 100% of sexual power. And remember Ms. Slutty McSlut is waiting for you.
Premium Adult Games
Share this game with your friends!
Similar Games